Harry Potter on Personal Development:: Relationships Are Your Greatest Asset
Of all the things I have learned from the Harry Potter saga, this is the most powerful to me. If you were to ask yourself what was Harry Potter's greatest strength or asset; what would you say? I would say, "his friends."
The strength of any person can be measured by those who are loyal to him. This was well illustrated by both Harry Potter and Albus Dumbledore, who had such a large number of loyal followers, we cannot begin to list all of them. I hesitate to use the word followers, lest each of us think we need to gain followers (not referring to twitter friends). What I really mean by followers, is people who would readily come to your aid; people who would willing sacrifice their own needs or possessions to grant yours. In effect, people who love you.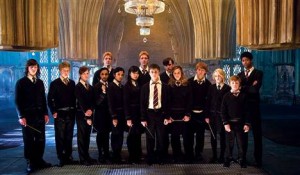 We see this pattern over and over as Harry's friends including Ron, Hermoine, Neville, Luna, & Ginny willingly put their own needs behind them in an effort to help and assist Harry. This was because of both their love for Harry and for their love of Harry's cause.
Adults were equally drawn in to him. Dumbledore, Lupin, McGonagall, Hagrid, the Weasleys, and countless others were willing to sacrifice their own lives for him and several did.
Creatures including Dobby, Creature, Buckbeak, and Hedwig were eager to defend him and his interests.
The greatest assets anyone can have in their lives are the relationships they build. If you are a religious person, you understand further that your greatest asset is your greatest relationship; the one with your divine creator.
Cherish the people around you. Give them a reason to believe in you by believing in them. Relationships go both ways. The people who have the greatest influence and power, are those who have learned to love and cherish the greatest number of people.
Jacob S Paulsen