Find Out Who your Real Twitter Friends Are: Who Is Following You Back?
I'll be the first one to admit that I don't follow very many people on Twitter who aren't willing to follow me back. Outside of Stephen Colbert and a few other celebrities I automatically unfollow people on Twitter who aren't following me in return. I utilize a software program called Tweetadder to do that, but in case you are just too cheap or would rather manually browse a list of people who don't follow you back, you can use Tweeter Karma by dossy.org.
 This Twitter Tutorial Will Guide You Through Using Tweeter Karma by Dossy.org
Navigate to http://dossy.org/twitter/karma/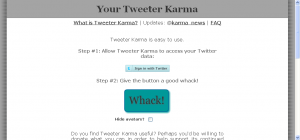 Click on the "Sign In With Twitter" Button and enter your Twitter credentials.
After you have signed in you will be returned to the Tweeter Karma page and you will see a message under the blue sign in button that reads "Successfully logged in using OAuth"
Decide if you want Avatars (pictures of users) displayed. It will take longer to load if you choose to display them.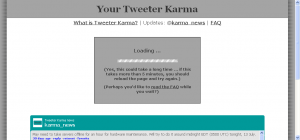 Press the "Whack!" button and…. wait… wait… wait. The more Twitter users whom you follow and that follow you, the longer you will wait for the page to load. Be patient.
After it is done loading you will see something like this: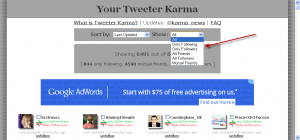 In the pull down menu on the right hand side you can filter out which type of Twitter Users you want displayed below.
As you browse through the various users you will be able to see if each user is following you, if you are following them, etc. You will also be able to manually follow or unfollow any user by clicking on the link below their name.
By default users are sorted according to how recently they have updated. You may also choose to sort them in alphabetical order or according to the number of followers that they have.
Hopefully this Twitter Tutorial will be help you sort through all the twitter users you are connected to. Until next time…