How and Why To Buy Domains That Are Not Available

In 2016 I was attending the Traffic and Conversion Summit event where I heard a presentation from Perry Belcher about some of his best tips to acquiring good domain names.
Since then I've been on a personal journey to acquire quality domain names. I've found some tricks that work for me and some that I learned from Perry that have proven fruitful as well.
First, WHY Go To The Effort?
I imagine it goes without saying that your website's domain name is arguably more important than your company name and where possible they should be one and the same.
In today's climate your domain name will become your brand even if you don't want it to. Despite this I often talk to businesses and friends who tell me they can't name their business X because the domain name isn't available.
When you decide to launch a new business or project don't restrict yourself to domains that are available or you are effectively restricting yourself to crappy business names. All the good ones are probably taken unless you are launching a local business with no plans to expand and can include the city or state name in your domain.
For Sale By Individual Or Broker?
When I identify a domain that I would like to own that isn't available I follow these steps:
See if the domain is being used for an active website or if it is just parked.
If the domain is in use then I'm going to spend some time looking through the website to determine some important things.
First, how recently it has been updated and how much traffic it may be getting? Websites that get a lot of traffic or have been updated recently are going to be more expensive or difficult to convince the owner to part with.
Second, is the content on the website relevant to my business? Likely search engines have already crawled the website and if I completely redo the website to a topic that is different that is going to slow down my ability to rank well for target search terms on that website. This is worth considering.
If the domain is parked or otherwise not in use that is likely a good sign as the owner is more likely to be willing to part with it. Often the parked page will have information about the domain being for sale and how to contact the broker and make an offer.
If there is information about contacting a broker to make an offer to buy the domain this is generally a sign that the domain is going to be on the more expensive end of the spectrum.
In my ideal scenario the domain isn't in use and doesn't have any information about it being available for sale.
Use WHOIS Tool to Find the Owner
All domains have a registered owner. There are a number of lookup tools online to help you discover who the owner is. My preferred tool is the GoDaddy WHOIS lookup tool and you can find it here.
Put your target domain in that search box and presto… you may get lucky. You are lucky if you see the name and address of a real human along with an email address and sometimes a phone number.
If that is the case you now have contact info and even if they had a broker listed to contact you can bypass the broker and contact the domain owner directly.
SADLY, you aren't always lucky as domain registrars do allow the domain owner to use privacy registration to replace their personal contact info with the information for the registrar. When this happens you don't have any way to directly contact the domain owner without working through a broker or buying service.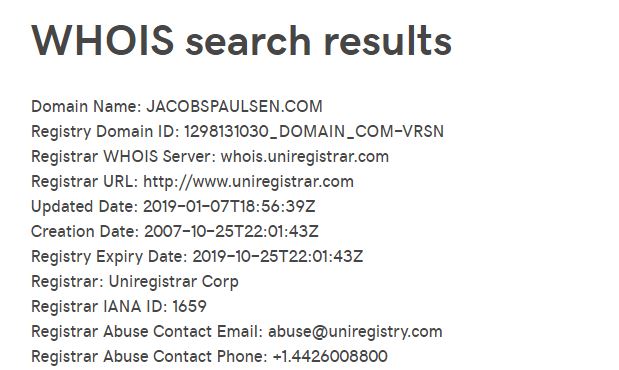 If You Can Directly Contact The Owner
Here is a script I use a lot:
SUBJECT LINE: Would you consider selling it?
Some noteworthy things about my script:
I think it is very important to include your personal cell number and letting them know they can text you. This communicates you are a real normal single human and that you are serious about buying the domain and that this is very unlikely to be a scam
I don't include my full name as my name is fairly easy to Google search and find out who I am, what I do, and to make some assumptions about how much money I may have
I do not include an initial offer or bid. Right now my only goal is to solicit a response. Negotiation can take place after they respond
I don't say why I want the domain or what I intend to do with it. It isn't any of their business and again I don't want to turn them off before I even have a chance to begin the conversation
In addition to an email I will often try to find the person on Facebook and send them a message there as well. Script might look something like:

If You Have to Use A Domain Broker
Don't despair if you have to use a domain broker. I especially like the team and service at Uniregistry.com and have acquired several domains via a broker. But understand the broker is going to keep a fee and the seller must be fairly serious about monetizing their domain assets or they wouldn't have hired a broker to begin with. You should expect to pay a lot more.
Making Your First Offer
When I'm dealing directly with the seller I generally start really low. For example if I would be willing to pay $1000 I might make my first offer $250.
When dealing with a broker I'm going to leave less room for myself. If willing to pay $10,000 I might offer $5000 in my initial offer.
Should You Use Escrow
There are a number of different Escrow services you can use which effectively will take your payment and hold it in an account giving the seller confidence they can transfer the domain without fear they won't get paid. Once the domain is transfered to your satisfaction you notify the Escrow account to release the funds. Thus you are both protected in the transaction.
I prefer to use escrow.com for this service but understand that escrow services come with fees. I rarely use them and so far I've never been scammed or otherwise dissatisfied with a transaction. Use your best judgement.