Facebook & Twitter for Local Businesses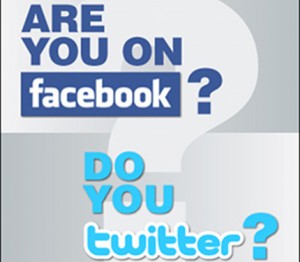 One of the most common things I've heard from local advertisers when discussing internet marketing and SEO is, "How am I supposed to use Facebook & Twitter for my business?" Local businesses know very little about internet marketing or social media on average. They generally know that they need a good website and that they are supposed to have a Facebook page and Twitter. In a society where 4 of the top 10 most popular sites online are social media sites, local advertisers are being bombarded with pressure from all directions to participate in the buzz. The problem is that nobody is offering very much advice on HOW to use these social media sites to bring in the business.
Today I want to give you a very basic understanding of how you should be viewing and using Facebook and Twitter to bring in the cash. Remember that marketing is marketing regardless of being online or offline. It's just as important to drive traffic to your website as it is to drive traffic to your local business or store. Likewise, it's just as important to build a list of potential customers online as offline. I'm going to separate our discussion into these two categories.
First, Building a List from Social Media sites:
Twitter and Facebook can be a strong way to bring new people to your site and sell your products and services but you must first have an audience. Start with a Facebook Page (not a group or personal profile) and ask friends and family to "like" your page. Go to Twitter.com and setup your profile there right away also. We can now split the work of building a list into two action steps. First you must create content that is worth people looking at. Second, you must let enough people know about you and give them a reason to follow you. The easiest way to create content is to Blog. Setup a blog page on your website and consistently write articles on the blog about your core competency. This can be done by ANY industry. Content can be educational, entertaining, or even a little personal in nature. Once you start blogging you can automate the process of feeding that information into Facebook & Twitter. On Facebook you can use the "Notes" application to import your RSS feed (provided by your blog) into your page. For Twitter there are a variety of ways to auto-post your blog entries to Twitter depending on what blogging software you are using but I personally like TweetAdder which is easy to use and can effectively syndicate your blog content into Twitter. Other types of content for your Facebook page can be the tedious updates such as a new line of product or type of service you offer, specials & coupons, upcoming events, pictures of loyal clients or customers, etc.
Now that you have some content you need to let people know about it. Put up a sign in your business or store letting customers know they should follow you on Facebook & Twitter for special updates and offers. When you do business with a new customer or client ask them if they are on Facebook and ask them if you can send them a page suggestion for your business. They will always say yes. The easiest and fastest way to build a following on Twitter is to follow other people on Twitter. People are likely to follow you back if you follow them first. Don't randomly follow anyone on Twitter. You need to target potential customers. There are a variety of tools that you can use on Twitter to search for users based on their location, or based on keywords they use in their tweets. My favorite of those tools is TweetAdder.
I have now been using TweetAdder for about a year. Before TweetAdder I used a handful of other "Auto-Pilot" Twitter programs that left me unsatisfied. When I am looking for Twitter software I am looking for a program that will do the following:
Auto follow users based on specific criteria such as keyword or location
Auto unfollow users who don't follow me back after a specified time period.
Auto send Direct Messages to users who follow me
Auto Tweet from an RSS feed or a pre-designated set of Tweets
Be compatible with PC and Mac
Have an app from which I can manage it from my phone
TweetAdder does (almost all) this and a lot more… with style. It's only lacking in the mobile app category, but none of its competitors have mobile apps either so maybe I'm asking too much.
Second, Driving Traffic from Social Media Sites:
Now that you have consistent content to share with your followers on Facebook and Twitter, and your following is growing we need to focus in on bringing those people to your website or in the front door of the business to buy product. Everything you post on Facebook or Twitter should have a link that takes the user back to your site to view the picture, the "whole story," the full blog post, or complete details about a promotion or sale.
Utilize a URL shortening service such as www.bit.ly to shorten your URLs and track how many people are clicking on them. This will help you zero in on best practices including the best time of day to post, the best type of content to post, and even the right type of wording to use in new posts.
Remember that building a following in social media is SUPER important but you must learn to utilize the tool to bring you more traffic and more business without it becoming a huge drain on time and resources to maintain it.
Jacob S Paulsen