A Beginner's Guide to Email Marketing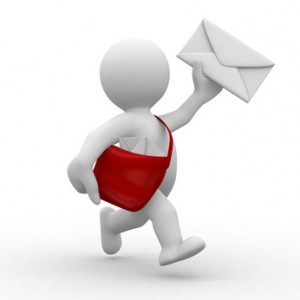 Email marketing is in the most basic form simplistic. Build a list and send stuff to it with both educational and promotional information. As a business owner or internet marketing professional you should consider gathering email addresses among your very top priorities. In fact, its hard for me these days to think of a profession or industry in which building an email list isn't a great idea. Attorneys, doctors, accountants, plumbers, sales people, media companies, etc can all benefit from gathering email addresses from existing and potential customers.
Adding Email Addresses to Your Lists
Here are a variety of common techniques or methods that you might employ in your business to gather email addresses:
Ask clients visiting the business for their email address. This can be done at point of sale or as part of any other paperwork that customers have to fill out in the course of doing business with you.
Fishbowl: Put a fishbowl at the front desk and offer to draw a business card once a month for a free lunch
Create an opt-in form on your website (done via the software discussed below). Offer an incentive for the opt-in, such as; Enter your name and email address below to: Receive Our Free Report on…, Enter to Win…, Receive discounts and offers, Register for event etc.
Host a contest in which people must email in a picture, story, etc to participate.
Gather existing customer email addresses from your sales staff or other employees.
What to Send to Your Contacts
The most effective way to build and maintain an email list is to offer educational information about your industry. If you are an attorney write short newsletters about identity theft, law enforcement confrontations, business incorporation, etc. Regardless of what industry you might be in you can always find good relevant content to send to your email contacts.
In addition to the educational information you also need to take advantage of your email campaigns to promote events, promotions, and products or services. Use the sidebar of your email to talk about events or sales that are upcoming. Promote your Facebook or Twitter profiles and encourage readers to share the email with their social networks. You can also attach coupons or specials in the email. Banner ads for your affiliates or business partners can also be effective.
What Email Marketing Software to Use
There are a vast number of high quality Email Marketing products that you can choose from. The three most popular that you have probably heard about or considered are:  iContact,  ConstantContact, MyEmailProgram, and AWeber. I'm not going to spend the rest of this article splitting hairs over the small differences between these providers. Each offers a free trial and if you would like to spend some time looking you should go ahead. Each in my opinion does a comparable job of delivering the basic services that you will find necessary but I'm particularly partial to MyEmailProgram since its owned and operated by my company, JP Squared Consulting.
Another alternative for businesses who have some capital and would rather avoid monthly service fees is Interspire's Email Marketer. The software is expensive but you install it on your own server and don't have to worry about any monthly fees at all. This requires big IT knowledge if you are going to scale it to any real proportion.
Again here are some links to follow for the most common providers:
Hope you found this informative!
Jacob S Paulsen