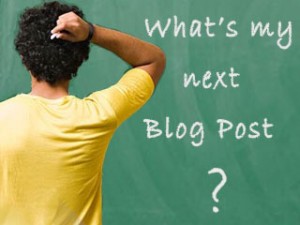 Do you sometimes feel dried up when it comes to finding new things to blog about? I have found that when it comes to writing, sometimes the juices just don't want to flow. Outside of reading a great book called "Finding Your Flow" back in January I have often found that the following strategies are a good way to drum up some ideas and content.
Google Analytics: The first place I look for good insights is in my Google Analytics data. First, I check the content section. Knowing which articles and pages are the most popular will help you understand what topics are of most interest to your current website visitors. Be sure to use a broad date range to shake out any new articles that have found temporary fame. Second, check the search traffic source page to see what keywords and phrases are bringing people to your site. If you have found some search engine luck in a few phrases or words build off of them to solidify your positioning.
Suggestion Box: Everyone is anxious to get the word out about their latest product or idea. Often times you can glean some excellent content ideas by allowing your blog visitors to submit their suggestions. I generally do this by setting up a content suggestion page or widget (depending on how much you want to encourage input).
Topic Discussion Forums: Whatever your topic and niche is I'm confident that there is a forum/online discussion board somewhere online where people with that interest have conversations. Visit that forum and setup an account. Browse the most recent topics and look for the common questions or unanswered questions that you could answer with a blog post. This has the added benefit of driving traffic to your blog by posting your blog post as an answer to people's questions.
LinkedIn Groups: Same concept as above. LinkedIn groups are very popular and you can almost always find a group specific to your topic. Join and sign up for the daily or weekly email digest. This will show you what topics are most trending and most difficult for people to answer/address.
Use Twitter and Facebook to Ask: Since social media is all about conversations, why not start one by asking people what questions or concerns they have about your topic? You will be surprised how much response you get. This is also a great way to ensure that after writing your blog post you have a few people who are very likely to go visit your blog.
What other ideas do you have to keep the blog post ideas flowing?