Goodreads For Authors: How to Take Your Book Social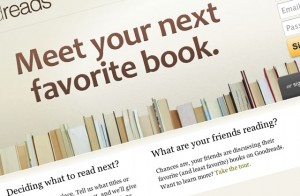 As the director of the largest online business book group; I have the opportunity to speak with a lot of authors. If you are an author, and haven't heard about Goodreads.com you need to fire your coach, publisher, or PR company. Goodreads.com is a fast growing social network for readers of all genres. Like most social networks you setup your own profile, connect with friends, and send private messages. It is different in that everything you do to interact within the site is based around books.
Activities include:
Adding a book to one of your bookshelves (Defaults include: Read, To-Read, and Currently Reading)
Reviewing a book
Updating your status on a book you are currently reading
Commenting on a friend's review or status
Joining book groups
Creating or commenting on existing book discussions in groups
So, as an author of a book you can see how this would present a fantastic opportunity.
The Three Things Authors Should Do On Goodreads.com
Complete Your Profile. You probably already have an author profile and just don't know it. Now you need to setup an account and claim your author profile. This is done by searching and finding your author profile, and then scrolling to the bottom where you will see a link that reads: "Is this you? Let us know." Click on that link and follow the steps to connect/merge your account with your author profile. Once this is done add some pictures, videos, all the bio information and connect your blog feed and Twitter profile.
Join in the discussion. If you expect others to read your books and review them you need to show that you also know how to read and review a book. Go back the last 3-5 years and find all the books you have read. Write short reviews and publish them.

Search for book groups

of readers that would be interested in your writing. Join these groups and become an active participant in the discussions. Remember that all forms of social media boil down to your ability to connect with people. Respond to reviews about your writing; especially the negative ones. It is ok to listen to what others say about you and respond professionally.
Consider buying advertising. Goodreads has a fantastic advertising dashboard. You can target Goodreads users based on what books or author they like making it easy to put your new book in front of the people most likely to enjoy it. Advertising doesn't have to be expensive. Start here: http://www.goodreads.com/advertisers/ad_home
The Three Things Authors Should NOT Do On Goodreads.com
Add mass numbers of friends. Similar to Facebook or Twitter, searching for and sending friend requests to thousands of Goodreads users is unlikely to actually do you any good. Produce valuable content and contribute to conversations and people will send you the friend requests. Those are valuable connections.
Be Self-Promotional in your discussion. The worst thing you could do is start a new discussion topic in the biggest group of your genre and tell everyone to check out your book, or tour, or promotion. Advertising is not only against the rules but its also annoying. Again, if you contribute to discussion then people will naturally follow your name/link to your author profile where they will learn more about you and your writing. Let that happen naturally. It is OK to share links to articles you have written or blog entries that are relevant to the discussion at hand.
Ignore the feedback and comments. You should be grateful for all the reviews, comments, and feedback you can get. It will only help you refine your work and better target your promotional efforts. Pay attention and respond!
Hopefully this gives you some context that will make it easier to get started but in the end we all learn by doing!