You Have Emails But You Don't Have An Email Marketing Strategy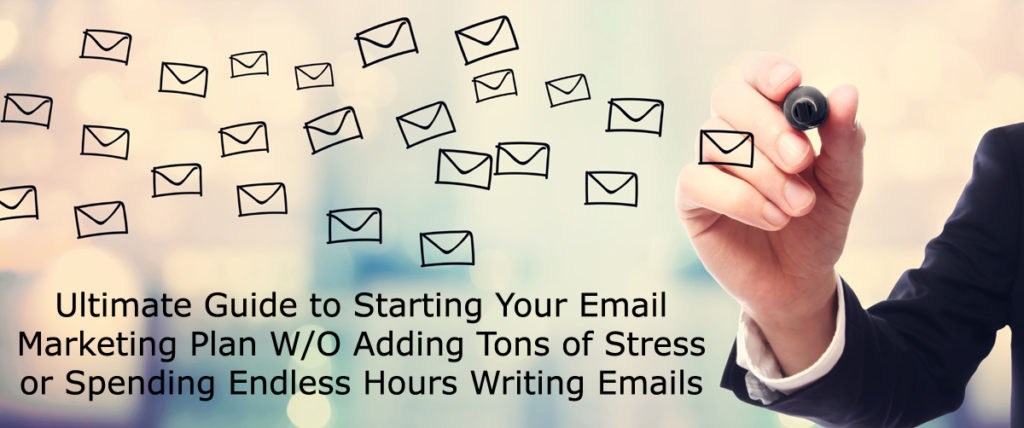 This is for any business owner or marketer who is currently NOT sending regular emails to an email list of subscribers, customers, and potential customers.
This conversation usually happens when I'm talking to a business owner who has been around for a few years but doesn't currently send much or any email.
WHY You Need to Be Sending Email
Not building and cultivating an email list is costing you money. Depending on how amazing your email strategy is, your lack of doing something is probably costing you between 5 cents and a dollar per email address per month.
Now I get it… writing emails is hard and can be expensive! That is what has been holding you back. It doesn't have to be that rough… I promise.
Scraping Together Your Email List
Before we get into the how and what, we need to build your email list. It is time to go to all your various resources and combine all the files, exports, and other assets you have to build out your email list.
Where possible, you want to capture as much data about each email subscriber as possible but specifically where you can be sure to export/capture: First Name, Last Name, Email Address, State, Zip Code.
This information will be handy later when you are making so much money from email you can't handle it and you decide to start segmenting or customizing emails to each recipient 🙂
Here are a number of potential resources you may consider where you can find email addresses you have collected over the many years you have been in business:
Your eCommerce system
Your CMS where customer data is stored
Any 3rd party system where you have hosted a giveaway in the past
If you have ever donated product to someone else's giveaway and they captured emails they may be able to provide them to you
Your fulfillment and shipping software or system
Your outlook or email contact list and that of your employees
If you are in the B2B space you may have a Rolodex or large pile of business cards. There are phone apps that can take pictures of your cards and extract the email addresses.
A Warning Not To Buy Or Steal Emails…
There is often a temptation to buy an email list from a vendor or swap email lists with a partner or vendor. I strongly discourage this. People don't like getting emails from random businesses that they didn't specifically opt-in to receive or with whom they have some sort of relationship or brand awareness.
Further, it could be a violation of terms or at very least trust from that 3rd party to be providing you with those email addresses.
Lastly, if you have personally overseen the gathering process of email addresses that end up on your email list you don't know where they came from and frankly quality is MUCH more important than quantity.
Often purchased email lists contain email addresses specifically built and monitored by email service providers to catch companies that are sending SPAM and junk mail.
Waking Up Your List or Sending the First "WARNING" Email
Now, you have put together your email list and you are wondering what to do next. Well, first thing you need to do is WARN these people you are planning to send them email.
This is tactically wise but also ethically good. If you have email addresses that up until now you have never sent anything and all of the sudden you are going to send them email with any type of frequency don't you think they deserve a heads up and the option to say "no thank you?"
In addition to the warm and fuzzy reasons, there is a tactical benefit as well. It costs money to send email and for every email address on your list that isn't interested in receiving emails you are going to be paying to send it to them.
Further, if they mark your email as SPAM or move it to their junk folder this is going to hurt your sender reputation which in the long term will keep your emails from getting to the contacts who DO want to receive them.
Getting "bad" contacts off your list is just as important as getting "good" contacts onto your list.
So We Start With The Ferris Cold Email Template
I first saw this email several years ago when top blogger, podcast, and author Tim Ferris decided to resurrect his email list and start emailing them after years of ignoring the list.
I have adapted and used this template several times and I encourage you to adapt it for your business: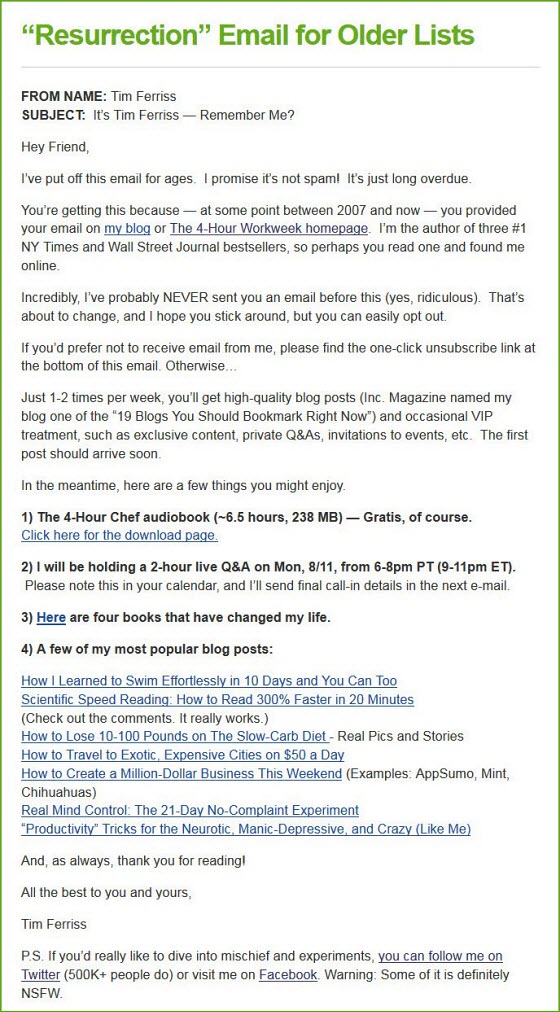 The easier you make it for people to unsubscribe the better because remember one of the core goals of this email is to get "bad" contacts off your list before you start sending frequent emails.
Also note that Tim provides some value in his email by including some free resources and products that help people engage with his brand and remember who he is and how he can provide them with value moving forward.
How Often Should You Send Email?
Congrats. At this point, you have pulled together your email list and warned them you will be sending more frequent email. Now what?
Commit to a regular sending frequency. How often you send email is not nearly as important as committing to a frequency and communicating what that will be.
Meaning, be consistent. If you commit to sending weekly, plan to send weekly; and however often you commit to sending, manage that expectation moving forward by telling subscribers what to expect.
You can manage that expectation in the Ferris Cold Email template and anywhere on your website where people can opt-in to receive emails. Every new subscriber should get some sort of "welcome" email and in that email manage expectations about how often you send emails.
What Should You Send?
I have found that this is where the rubber hits the roads. Most of the business owners I talk to get stuck on this part.
Listen, if you are already busy and haven't been sending emails for the last however many years then taking on a serious email strategy that requires typing up great emails often is probably unrealistic.
I generally suggest, just to get the ball rolling that you build some sort of newsletter template that is going to be low work to build and execute.
Something with 3-4 sections that you can quickly insert content into and hit send. For example, one of our brands does a weekly newsletter which includes 4 sections.
Section 1 is their latest podcast episode (yeah its a podcast)
A social feature. Basically featuring an instagram follower/customer
Share of the week in which they include an article, video, or similar from some other website or channel that isn't them. (it is ok to share content that isn't yours)
Product of the week. Exactly what it sounds like.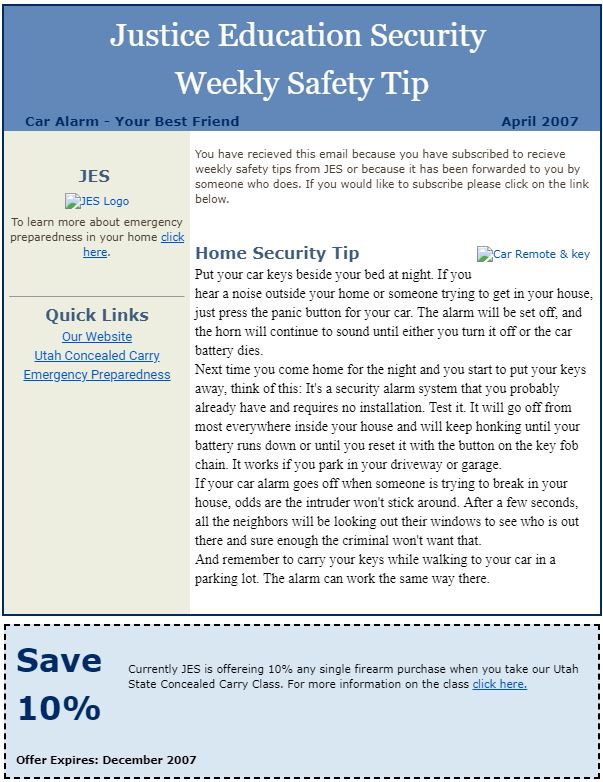 Once you have a template built out it should be low maintenance to commit to your sending schedule.
But This Newsletter Won't Make You A Ton of Money
Now you have the foundation in place but if you really want to generate cash from your email you need to go beyond this.
You now built your list and got them to expect regular emails from you that contain valuable information. Great job. This is the most difficult part.
Now you need to figure out how to monetize this. Monetization strategies are going to vary dramatically from one business to the next depending on what you sell, who your customers are, and much more.
Obviously sending emails that promote your own product or service include sales, referral or loyalty programs, and new product offerings is a good idea.
In addition you may be able to market 3rd party services or products that are not a conflict with your own products. You might be able to get paid a commission based on the performance or just get paid a direct advertising fee for promoting that 3rd party's product(s).
This article was meant to get you to this point. You can read other articles on my site about email marketing or consult with a marketing coach to keep the ball rolling but I promise that email with be a low cost, high ROI asset of you do it right!