Fred Factor and Fred 2.0 by Mark Sanborn
In our book group last month we read "Fred 2.0" by Mark Sanborn which is a sequel of sorts to the best selling book "The Fred Factor." These books tell the story of Fred the Postman and use his story as an example of extraordinary service and results.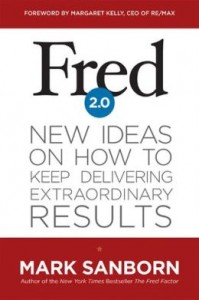 Fred the Postman, once the postman for the author is Denver Colorado, lives a life of service. Fred believes that its only the right thing to do to go the extra mile and take care of people under your stewardship. Mark's first book, "The Fred Factor" talked about the 4 Fredlike principles and sold over 2 million copies. This second book, "Fred 2.0" is like the graduate course and expands on what it means to truly be a Fred.
The book is full of great insights and reminders. Among those, one the biggest things that sticks out to me is the emphasis on living a life of service based on loving and feeling compassion for those around us. This paradigm sounds a little mushy on the surface and even more impossible in real application. The harsh truth is that we must first love people so that we can serve them and create value for them. Only then can we create lasting relationships and acquire wealth in all its forms.
I also loved the core idea that we need to raise Fred Jr. today. Mark gives some great examples of how we can teach our youth the Fred principles and the types of results we may expect from that effort. Another chapter that stuck with me is called "Renew Your Resolve." As much as any of us strive to provide great service and to serve those around us, we will on occasion find ourselves knocked down to the ground. Without the ability to renew and re-commit ourselves to the greater purpose that drives us we will ultimately lower our standards to mediocrity.
Lastly I might add that among my favorite things about these books is that they are not lengthy. In the authors words he told me, "You could buy the book in the Dallas airport and have it read before you land in New York." That is true and I appreciate an author who writes about big ideas in few words.