The Perfect Yellowstone Vacation Plan
I grew up in southwestern Wyoming, only a few hours from Yellowstone but only visited a few times in my youth. I married a woman (also from southwestern Wyoming) whose family visited almost annually.
Thus, Yellowstone trips are now part of our family culture and our kids hold us accountable to keep our commitment of visiting every 4 years. We are not experts by any means but I really like our approach and plan we have followed when we've been the last 2 times and given the number of times I've shared it with others I decided it was time to put it in writing so it would be easier to share.
To give credit where it is due, my first Yellowstone trip as an adult was planned by my in-laws, who are Yellowstone experts and veterans. It was fantastic and since then I'm inclined to follow the plan the same way every time.
What follows is a helpful guide to anyone visiting Yellowstone but it caters to our 5-day trip which includes 2 days for travel and 3 in the park.
Jump to a Section:
Getting there – Airplanes, Cars, and which entrance
Yellowstone National Park is not close to any major airports. One could in theory fly into Jackson Hole but the cost is prohibitive for most. More likely you are going to fly into either Billings MT, Salt Lake City UT, or Denver CO.
Billings MT is the most expensive as it is the smallest of those three airports and finding a direct flight is near impossible.
Choosing between Salt Lake City and Denver is an easy choice as the drive from SLC to Yellowstone is appx 5 hours while the drive from DEN is 8 1/2 hours. Save the 3.5 hours in the car and fly into Salt Lake City.
If you rent a car get something with a little muscle. You likely won't be visiting during the winter so 4-wheel drive probably won't be necessary but you will be stuck behind your fair number of rented RVs and having a little muscle makes it easier to pass those vehicles, going uphill, on a 2-lane road.
I strongly discourage you from driving a RV or pulling a camper. Far too many places you visit are going to have PACKED FULL parking lots with limited spaces for oversized vehicles. You are going to hate parking.
This will also allow you to enter the park from the Southern entrance which is in my opinion preferable. There are several points of entrance to Yellowstone.
Coming from Montana you can enter at one of 2 northern entrances, or from Montana you can enter from "West Yellowstone" (which is almost Idaho), coming from Wyoming you can enter from the East coming from Cody WY, or lastly, you can enter from the south via Grand Teton National Park and Jackson Hole WY.
If you are driving from somewhere northwest or north perhaps one of the Montana entrances or the Idaho entrance will just be the most convenient for you but the Paulsen family comes via the south entrance primarily because visiting Yellowstone, but failing to visit Grand Teton National Park and/or Jackson Hole is a MAJOR Fail.
So trust me and come via Jackson Hole and enter the park from the south. If you fly in from Salt Lake City that will be the most convenient and direct route anyway. Coming from Denver it is equally as convenient as coming via Cody WY.
Where to Sleep – Camping VS "Lodges & Cabins"
Throughout the park there are many campsites, lodges, and cabins. Also immediately outside the park you can find lodging in Jackson Hole, Grand Teton National Park, West Yellowstone, and Cody.
On the Paulsen Yellowstone trip we don't camp. We are campers generally speaking but it isn't part of our Yellowstone experience. That said you do you.
Where you decide to stay, camping vs a lodge may be in part due to availability on your selected travel dates. Yellowstone allows you to book campsites and hotels/cabins up to 1 year in advance… and if you want your choice of options you should book 1 year in advance.
If you are traveling to Yellowstone between June and September and don't want to sleep on the ground you better be booking at least 6 months in advance.
Resource: Book Here
On our Paulsen trip we stay in the lodges and cabins. We book as far in advance as possible. More detail below in the "Itinerary" section on where we stay but if you are lucky to happen to find any available room at the iconic Old Faithful Inn book it immediately.
The Inn is the largest log hotel on the planet and was built in 1904. It is amazing.
What Should I Expect For Food?
Eating is a complicated thing in my family. My wife is a Nutritional Therapy Practitioner and we are blessed with one extremely picky eater child. All the same, with some basic sacrifices that are required for any vacation the below generally works well for us.
Throughout the park there are a number of "Lodges" and each is generally equipped with a restaurant and a cafeteria.
For the Paulsens we just plan to eat at the cafeterias as they tend to offer a lot of options, don't require waiting to order and be served, don't require tipping wait staff, and generally serve our needs well.
Resource: Click here to see all the dining options in Yellowstone
We also generally have a large cooler that we stock with some fresh food items including everything we intend to eat for Breakfast each day. We pick stuff up from a grocery store before we enter the park and use a cooler that can be "plugged-in" in both the car and in the hotel rooms.
Note that there are a few small stores in the park with a few basic grocery items but it is the equivalent of shopping at a 7-Eleven convenience store so don't count on finding what you need.
More details on where we eat in the Itinerary section below.
The Loop
Yellowstone National park is huge but most of the best tourist sites are right off the main highway of the park. The main highway system of the park looks like a big number 8 with two connecting loops. There are 5 core highways that connect the number 8 to the outside world.
When we visit we enter from the south entrance and circle the bottom loop of the figure 8 as shown in my little photoshop map below.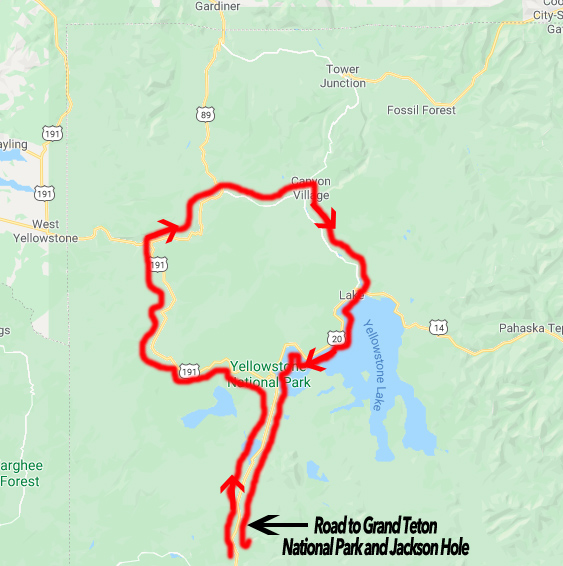 Most of the awesome stuff is on this loop and while one day we may venture north to Mammoth Hot Springs and the old arch entrance, for now, we are very content with our loop shown above.
The Paulsen Itinerary – Day by Day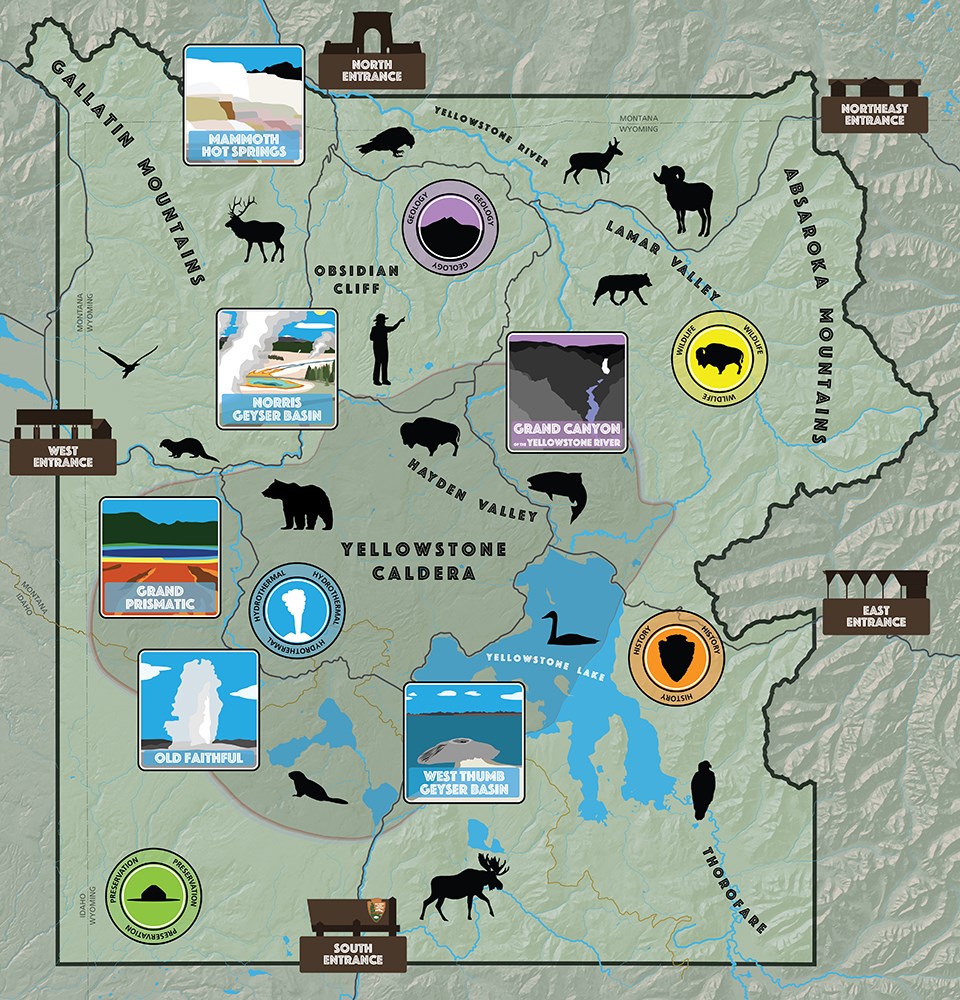 Day 1 Arrive in Jackson Hole
Day 1 is a travel day. Our objective on this day is to get to Jackson in time for dinner. We eat dinner at Bubba's because my wife's childhood says we have to; and I am on board. Great BBQ and been a famous stop for over 40 years.
If budget and time allows and you want some excellent entertainment to go with that meal you should also consider the Bar J Chuckwagon.
After dinner we explore Jackson Hole downtown. Take the required picture at any of the four entrances to the town park and go in and out of all the fun tourist shops. Maybe buy some chocolate or laffy taffy just because.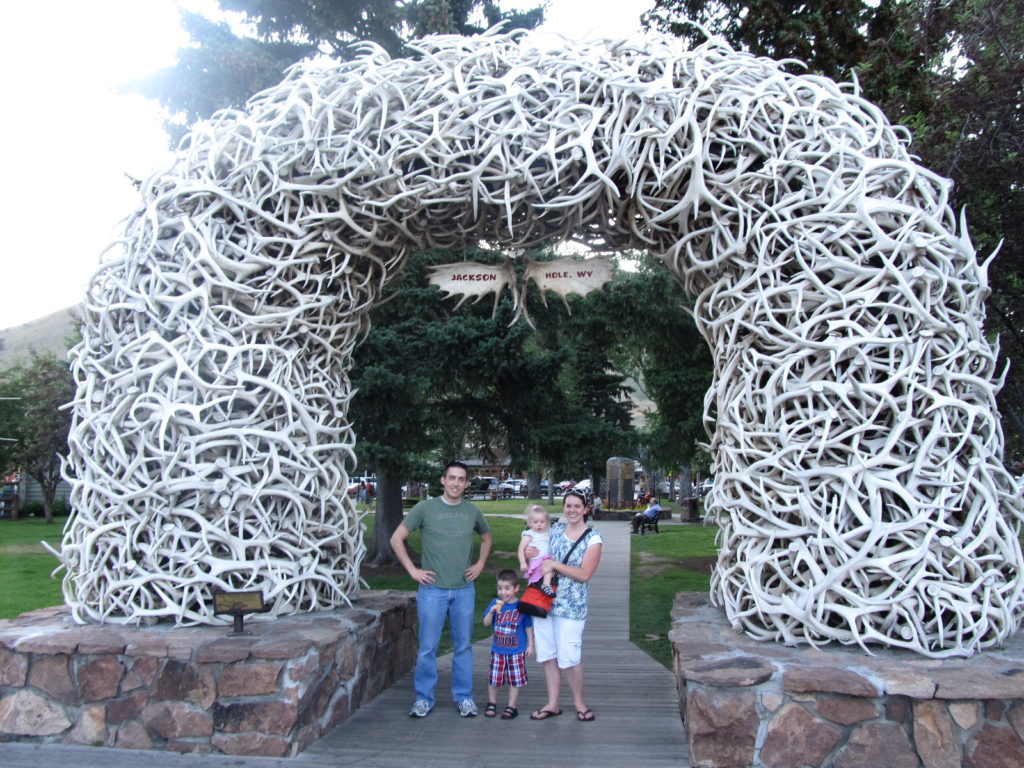 Stay that night at either the Antler Inn or the 49er Inn and Suites. Both are local, non-chain options that are affordable and come with plenty of local flavor.
Day 2 Explore Old Faithful & The Upper Geyser Basin
Day 2 wake up and head north toward the National Parks. Stop at most of the turn offs where tourists take pictures of the Teton Mountains. Yeah, you will never grow tired of the view and you can't take enough pictures.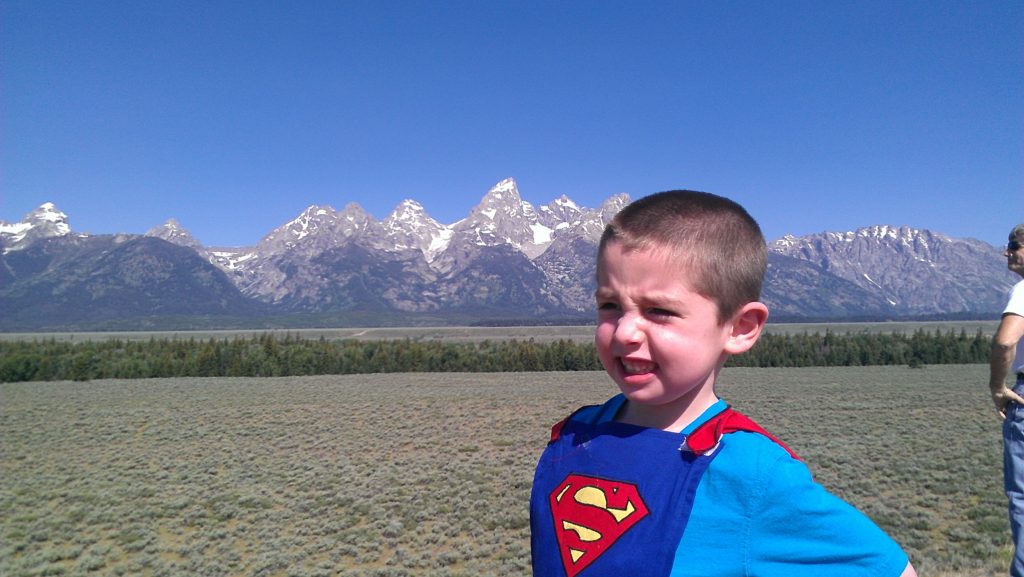 Enter Grand Teton National Park and pay the $5 or whatever it is per vehicle entrance fee. Drive north to Yellowstone National Park. Pay another fee. Drive to Old Faithful and the Upper Geyer Basin. (Follow signs for Old Faithful).
We generally end up eating dinner at the Old Faithful cafeteria. We either packed in lunch or we eat lunch at the cafeteria as well.
Spend the rest of the day at Old Faithful. Things to do:
Watch Old Faithful erupt.
Explore the visitor's center. This is the best and most comprehensive visitor's center in the park by far. Our kids love it and we do too.
Walk down the hill, starting at Old Faithful and going roughly west and then north, past all the various geysers on that trail. Don't stop until you get to Morning Glory Pool.
Even if you aren't staying at Old Faithful Inn, go in after dusk and sit by the fire and admire the building and fireplace.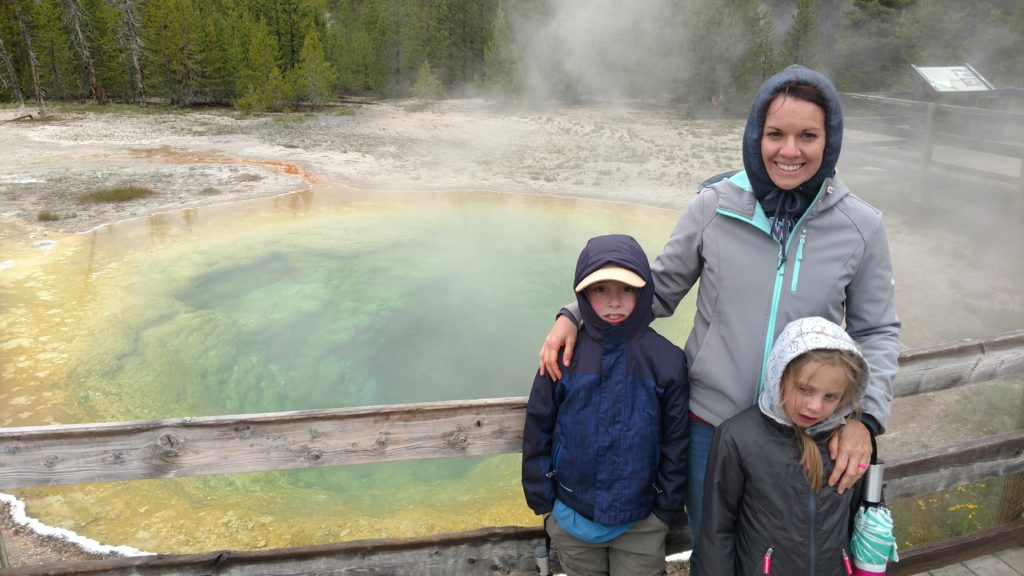 If you can stay at Old Faithful Inn you are lucky and I'm jealous. We've stayed at Snow Lodge before and it is very modern. We've also stayed in the Old Faithful Lodge Cabins and they are fun as well.
Day 3 Grand Prismatic, Paintpots, & Grand Canyon
Wake up and leave Old Faithful. Continue the loop to the west and north. Stop at all the larger parking lots where you see cars. Its probably worth stopping.
On Day 3 we drive all the way to Yellowstone Lake but on the way we are going to stop and see:
Grand Prismatic
The Paint Pots at "Fountain Paint Pot Trail"
Lunch at Canyon Village Cafeteria
Inspiration Point
Lower Lookout Point
Upper Falls of the Yellowstone (take Uncle Tom's Trail)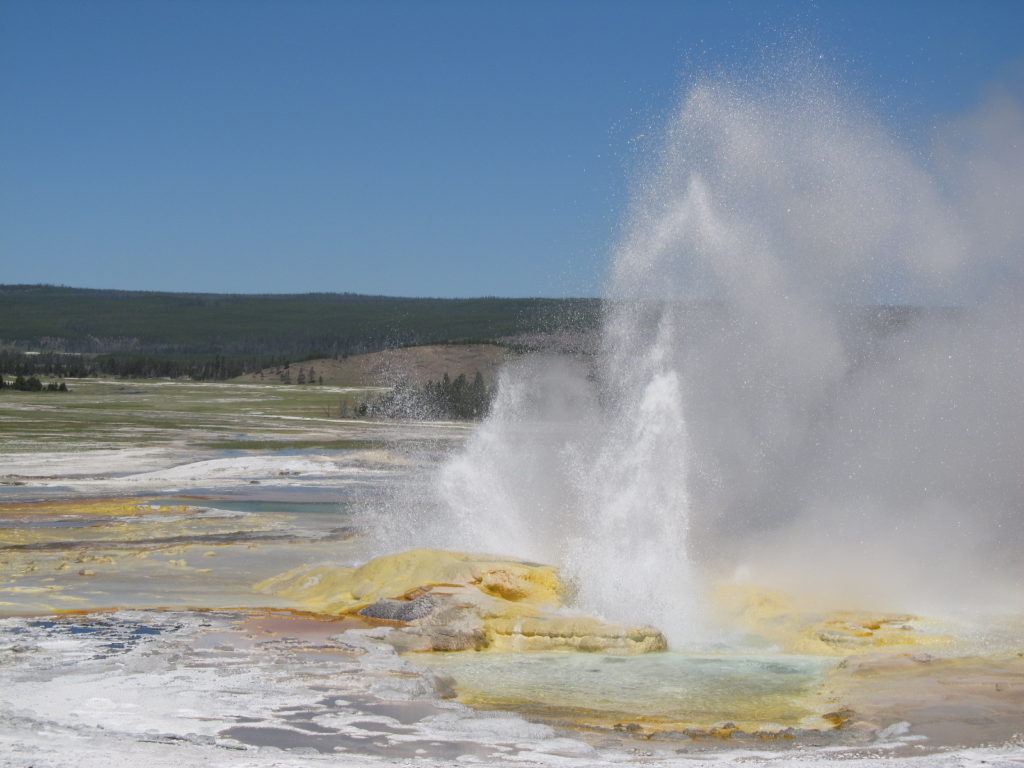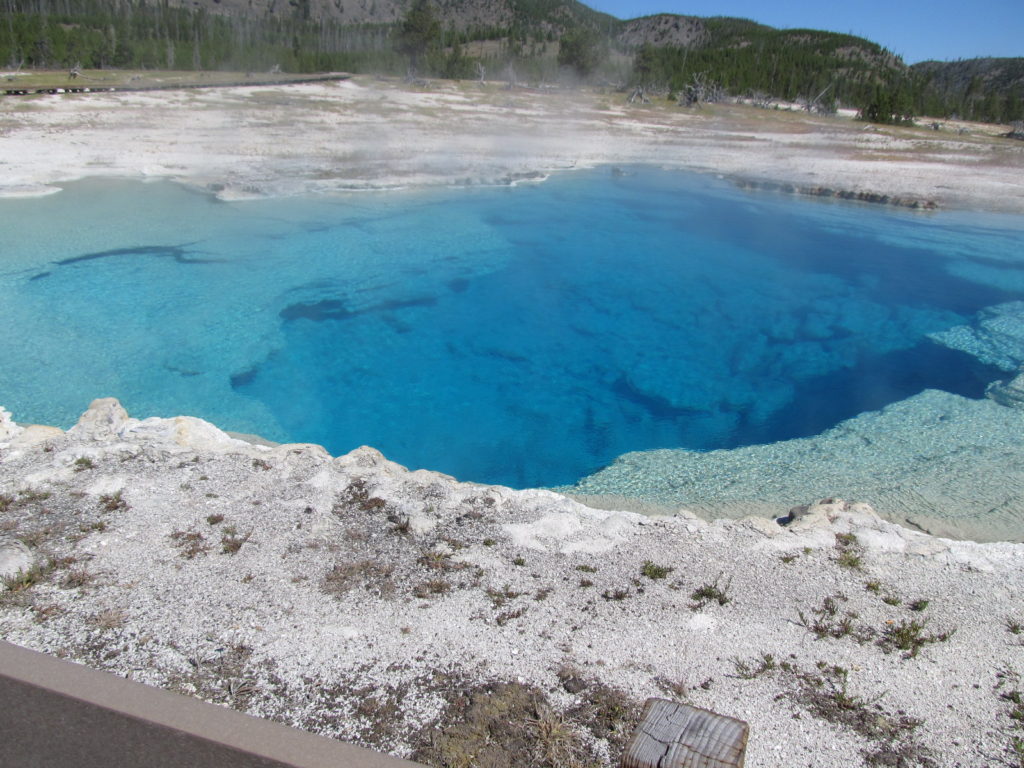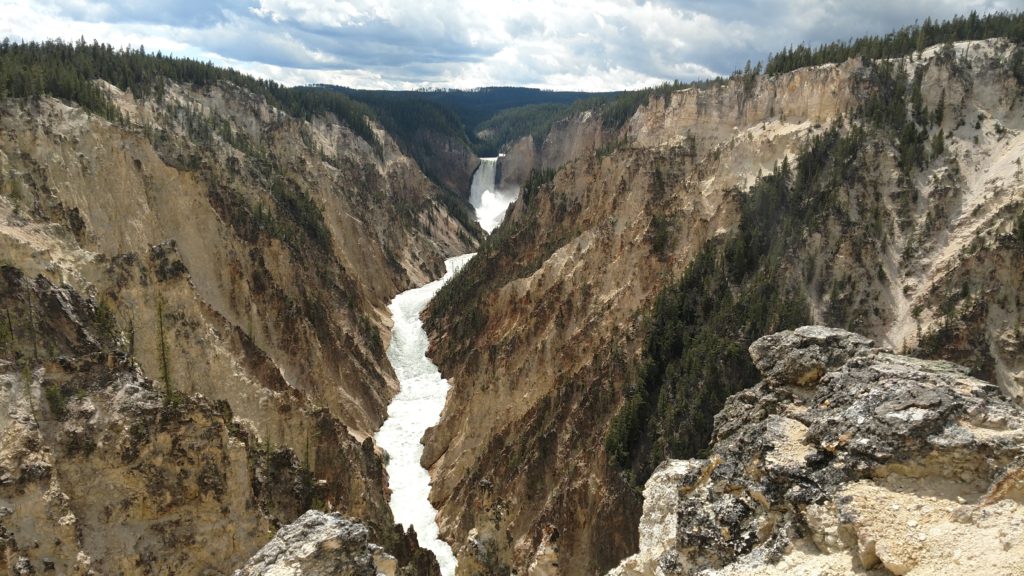 Finish the day at Lake Lodge. Eat dinner at the cafeteria and stay at the lodge or one of the Lake Lodge Cabins.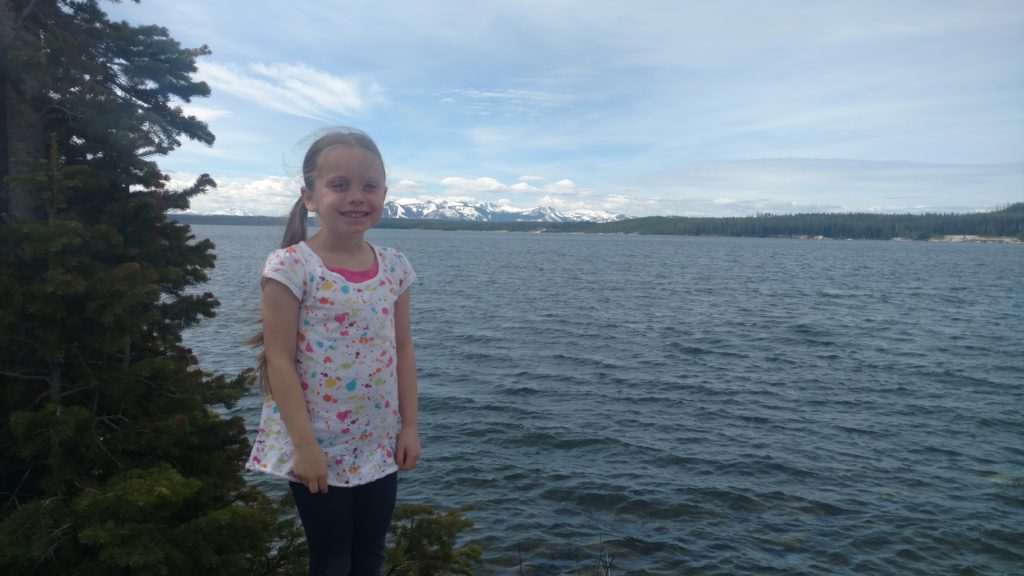 We love spending the evening on the porch/patio looking out at the lake and we love taking a short walk or hike along the lake.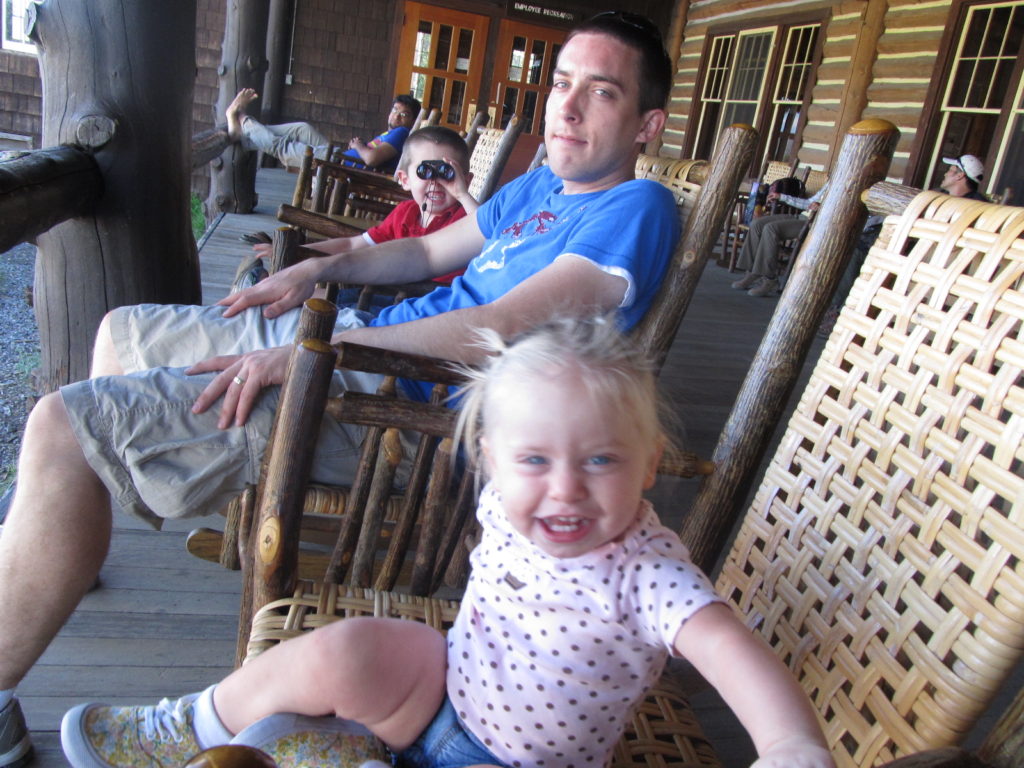 Day 4 Enjoy the Lake and Finish At The Tetons
Wake up and take your last look at the lake as you drive on, now west and then south.
Stop at West Thumb Geyser Basin and walk those trails.
Then proceed south out of Yellowstone and into Grand Teton National Park.
Depending on how quickly you are moving you could get lunch at Grant Village or in Grand Teton National Park.
On our last trip we stayed at Colter Bay on Day 4 and we loved it. I'm sure staying at Jackson Lake Lodge or Jenny Lake Lodge would be equally picturesque.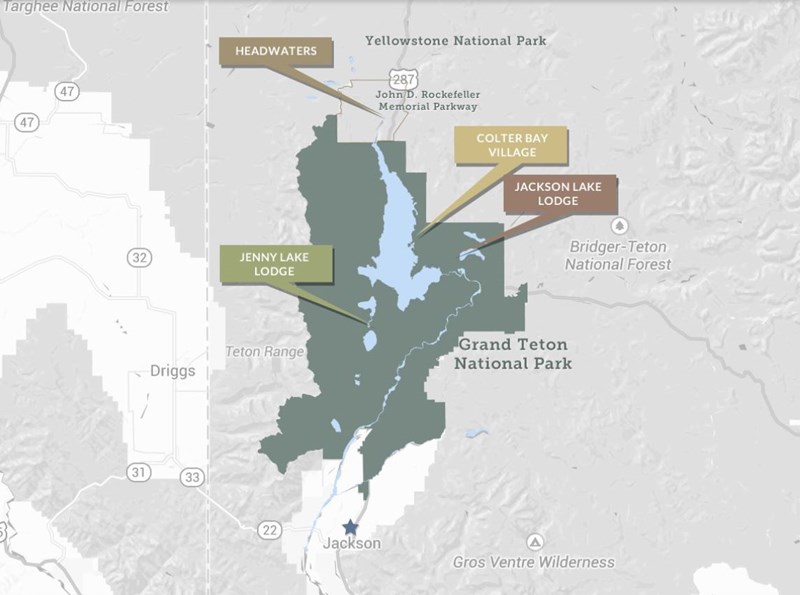 My wife remembers hikes to and around Jenny Lake from her childhood and we enjoyed it as a family as well. Spend the afternoon and evening of Day 4 staring at the mountains from various places in Grand Teton National Park.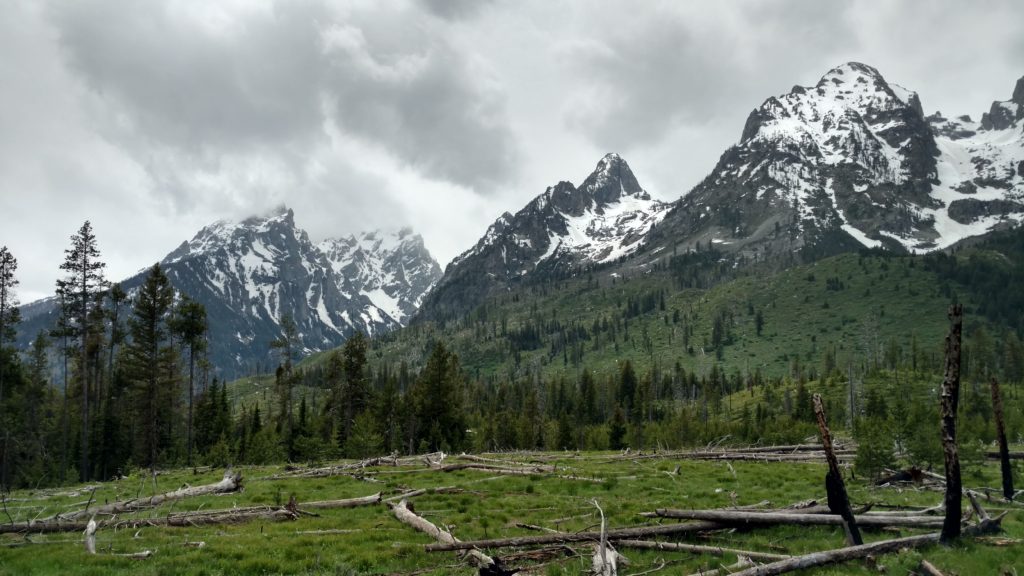 Day 5 Go Home
Day 5 it all comes to a close and we go home.
A few closing helpful thoughts
Don't plan on cell phone coverage… anywhere in the park
A few lodges may have wifi you can pay for
There is going to be a lot of wildlife. Stop and take pictures but don't be those annoying people who cause a traffic jam every time there is a Bison off the road
On our last Yellowstone vacation, we saw a license plate from every state but Delaware. Yeah, we play the license plate game and this is one place where you can probably find them all
The person who isn't driving should be on the lookout for wildlife as you go through the park. Deer, Bison, and Elk should be easy. Coyotes are bonus points. Gold star if you spot a bear. Call me immediately if you see wolves. A decent pair of binoculars would be nice.
The lodges and hotels don't have air conditioning. Its cool in the mountains… open a window. And even if you are coming in the middle of the summer bring a jacket or sweatshirt.
August is the busiest month at Yellowstone but the entire summer is pretty packed. Coming in the Spring or the Fall helps avoid crowds
Leave your dog home. I love my dogs but they are prohibited in most parts of the park. It isn't worth the hassle.