The Answer is Zapier – Solve All Online System Integrations
If you own an online business and you don't have an account with Zapier.com you should fire yourself immediately and hire a web guy who isn't clueless.
What is The Problem We Are Trying to Solve?
Stuff needs to talk to stuff. In order to make your business awesome you have to use a ton of different software solutions…
Email Marketing Software
CMS Software
eCommerce Software
Fulfillment Software
Google Drive
Giveaway Software
Social Media
Revenue Reporting
Affiliate Software
Marketplace Sales like eBay, Amazon, etc
Helpdesk Software
That One Thing That is The Best At Doing That One Thing
And On and On….
Companies do exist that claim to have the full suite! Do it all with them and you'll never have to worry about getting all the different systems to play nice together. The issue with those providers is that they suck. Honestly, if they really had the very best and most robust tools in all the categories in which you need tools then they would dominate and we would all flock to their service… BUT how can you be the best at 20 things when there are companies out there dedicated to being the best at just one of those things? You can't.
So, we all end up using a bunch of different services for different things. Sadly these things just don't get along. What if my eCommerce system doesn't have flawless native integration with the Email Marketing system I use? What if my Helpdesk software doesn't work perfectly with my social media profiles?
Zapier is the Answer
Zapier Is the Solution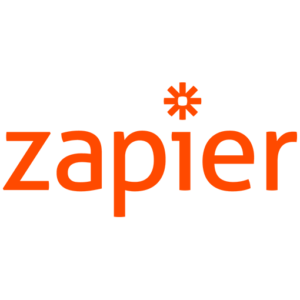 Zapier is an online middle man. It connects to a large number of other online platforms and allows you to integrate (pass data) between two systems that otherwise don't have native integration.
So if I want to have a spreadsheet of every phone call that I receive at the office I can do that. We use CallRail.com for our phone calls and we use Google Sheets for spreadsheets. So I set up Zapier to connect to CallRail and for every new call that comes in I configure it to populate a specific Google Sheet. Done.
I want to make sure that orders that come into our fulfillment system for a specific product also generate an email to the company that dropships that product? No problem Zapier can manage that.
Use the best systems out there for what you need and then let Zapier do the connecting!