Your Best Just Got Better By Jason Womack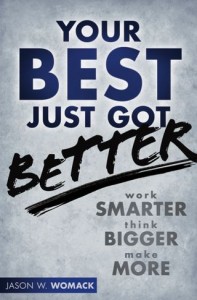 I recently completed reading "Your Best Just Got Better" by Jason Womack. This book is full of golden nuggets of productivity and personal growth. When the author says, Work Smarter, Think Bigger, and Make More; it means that with all seriousness. The book flows together to help readers move through a progressive education designed to take you from the beginning to the end. At the same time each section stands alone to give you actionable insights to make you better at what you do.
Also, Jason's sincerity comes right through the pages. You can tell that he cares about his clients and he cares about helping the reader grow. I've been reading personal development books for a very long time but there are still new ideas in this book and lots of good reminders.
One of my favorite insights is the idea of writing down ideal days. Jason suggests that you envision what a perfect day for you would look like. Write it down. I've heard this before but never taken the time to do that. Jason mentioned in the book that he has written down 100s of ideal days and lived many of them. This may sound a little silly but in context of what the book teaches it makes perfect sense.
I also love Jason's suggestion of pondering and creating an inventory of "I'm At My Best When." When you truly understand what factors lead you to be at your best you can start to manufacture greater productivity.
Read this book and you will learn these and 100 other great ideas to make you better than you are now.