Robert Shemin's How Come That Idiots Rich and I'm Not?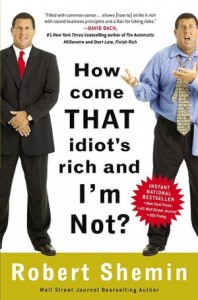 I just finished reading Robert Shemin's "How Come That Idiot's Rich and I'm Not?" Robert has a unique voice that seeps from the pages of his book. The voice speaks of sincerity, expertise, and experience. I wouldn't call the book a one in a kind but if you are stuck in your life wondering why all your hard work and plans haven't equated to wealth (monetary or otherwise) then this might be a good read for you. I think you could also read books by Kiyosaki, Trump, and others but Robert Shemin is really good at plain talk about I would describe this as a fun read.
Robert talks about the 3 pillars of wealth. After spending the first half of the book re-educating the reader on his/her perception of "rich," Shemin discusses the best practices in acquiring and building the three pillars. They are, Real Estate, Stocks, and Business.
One of key points that Robert drives in this book is the need to take action. This was a great reminder for me to begin with the end in mind and work toward a clear goal. As Robert teaches, each of us  needs a clear action plan that we can act on every day.
Do you need some reminders about true "Rich Idiot" thinking? Check out this book.
NOTE: I read this book as part of the 12 Books Online Book Group.