I'm Nothing Like Daredevil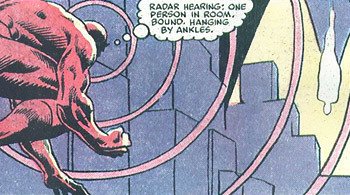 Daredevil is an awesome Marvel superhero who was blinded as a child by some chemicals. In the process his sense of hearing was enhanced so significantly that it became a sort of radar that allowed him to essentially see even without traditional eyesight.
At age 15 I lost hearing in my right ear. A nasty ear infection ate out my inner cochlea and at most pitches I'm about 90% deaf in that ear.
Now, while my vision is very good, better than average, it isn't enhanced to superhero abilities. Instead, like Daredevil, my good ear has become more and more sensitive over the years as if to compensate for my bad ear.
Now, unless you get the impression that my good ear has Daredevil like powers let me remind you of the title of this personal rant I call a blog post. I'm Nothing like Daredevil. My super power good ear is frankly nothing but a curse.
It makes any loud environment physically painful to endure. I do not go to concerts. I avoid sporting events, festivals, and any places with big crowds but that is just the tip of the iceberg.
In recent years I've found I can't deal with church singing, movie theater speakers, some shower heads, anything at my children's school auditorium, the average bathroom fan, airplanes, or other things you just wouldn't think Daredevil would have had issues with.
In addition to my car keys, wallet, and gun I also carry a single ear plug everywhere I go and I will pay a happy premium for good noise cancelling headphones. When I walk into a restaurant I request to be seated at the quietest table, and I've mastered the art of covertly blocking my ear canal with a finger while appearing to be leaning against my arm. I wear protective hearing protection when I mow the lawn or operate a vacuum cleaner.
What is the point? No point really… Just wanted you to know that despite amazing increased sensitivity in 1 ear I'm nothing like Daredevil.