Food Challenges – My New Hobby
Ok, so I've always wondered about the food challenges that you always see in restrauntants. It usually consists of: Eat "insert massive amount of food" and get your picture on the wall and a free t-shirt. It intrigues me. I have always been able to eat entire cows in one sitting and why not get a t-shirt for it?
My friend Chad Ricks told me a couple weeks ago that he had successfully completed the Sensious Sandwich challenge (2-foot sub). I was super jealous that I hadn't been there and told him that we should do the next one together. He called on Wednsday!
We went to Fudruckers in Orem, UT. The requirement: 1, 1-pound burger, a side, and a shake. I ordered the bacon cheddar 1 pound burger, with a side of wedge fries, and a Reeses Peanut Butter shake.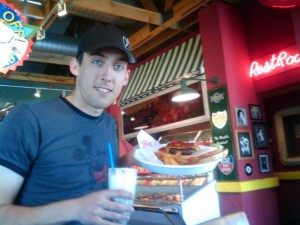 I really wan't too nervous going in and felt quite confident throughout. Chad finished before me and I thought I had it in the bag until after I finished the burger and fries and started to polish off the shake. I ran into something I didn't see coming. At the bottom of the shake glass there was a lot of solid reeses peanut butter chunks. That was super difficult to put down but I did it.
Thats right we both completed the challenge. Here is the sad part. At Fudruckers you have to do the challenge three times in order to get your picture on the wall and get the tshirt. They gave us a little card and stamped it to reflect our single victory. We will be going back again in May and June to finish it off.
Looking back I have decided to make this a new hobby. I want Simon to grow up knowing that his dad's picture is on the wall of several local eating joints. This is a great new part of our Paulsen Family Culture:)