A little "The Secret" moment in our Family
In March of 2009 Ami was very much so wanting to re-decorate our bedroom and she went out looking for bedding at a variety of stores. One particular comforter set stuck out to her and she sent me the following image via text message.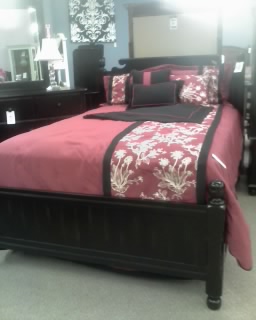 This particular set was marked at almost $300 at that time and she knew we were not prepared to buy it but hey… she can dream right?
Friday night Ami spent at least an hour looking online for a new bed set. We decided the time was right to make a purchase and she had been looking in stores and at a variety of websites for just the right thing (Naturally I was no help).  The bed set in the above picture was out of her mind (or was it) having been 10 months ago that she saw it. Yesterday we decided to go out shopping. Ami requested we stop by the store where she had seen the bed set of her dreams and when we got there…. you guessed it. There it was. We were informed by the store staff that it had been discontinued and discounted. We got the very last one at 20% off and my wife is one happy lady.
Its amazing what good things really do come to those that wait. I learned early in my life to plan ahead for big expenses and to keep from making spontaneous purchases on a whim. This new year set clear goals in each aspect of your life. As to your financial plans write down a budget and set expectations for savings, vacations, and large purchases. Make 2010 the very best year of your life!