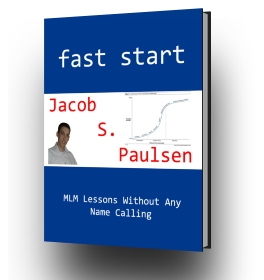 UPDATE: This Ebook is no longer available via the below method/form. To learn more about how you can receive this book, visit www.mlmfaststart.com
If you haven't already received your copy of my ebook "Fast Start: MLM Lessons Without Any Name Calling" just fill out your name and email below and I will send you the link! If you like the content come back and retweet and digg this post.
Thanks in advance,
Jacob S. Paulsen
This E-Book contains valuable lessons about analyzing the industry and preparing for success. Learn about the most common mistakes that people make when getting started and how to gain momentum in the first few weeks.