Getting Ahead: Three Steps to Take Your Career to the Next Level by Joel Garfinkle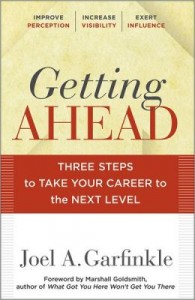 In September of this year our online book group read "Getting Ahead: Three Steps to Take Your Career to the Next Level" by Joel Garfinkle. Joel is one of America's top 50 executive coaches and the author of several books. This, his latest work, is designed to act as a guide to help people move forward in their careers.
The book makes a baseline assumption that high performance is in place and that other factors are preventing one from advancing. The book focuses on three factors; perception, visibility, and influence.
Many of the members of our group correctly jumped to the conclusion that these three factors (referred to as the PVI model) are what we often think of as office politics. With that in mind, while office politics has a negative connotation, PVI has a real place in understanding how the world works. It is also a realistic view of how one can add value to an organization and oneself beyond high performance.
One of the insights from the book I enjoyed the most was a point the author made about visibility. Many people are hesitant to voice their opinion in small or large group meetings. There seem to be a lot of excuses that people make to stay quiet. The truth, as the author explains, is that if we have any respect for ourselves we should value our own insights and opinions high enough to share them with the organization.
Another great lesson I learned from the author was the importance of managing up as well as down. A good manager works more on managing those above him/her than those below. A good leader also works on creating greater influence down, across, and up the organization. The greatest way to create influence is to help and serve others. Find out what they need and what their goals are and find a way to be part of the solution.
I would recommend this book to anyone who is a high performer who struggles with getting ahead due to having too low a profile or too quiet a personality.